Robotic Palletisers & Depalletisers
Alvey robotics provide complete integrated robotic systems.
Alvey intelligrated provides solutions for packaging operations in manufacturing environments as well as solutions for distribution and fulfilment centres.
Alvey has the ability to integrate a wide variety of material handling components, including robotic arms from multiple manufacturers, as well as a variety of standard and custom end of arm tooling.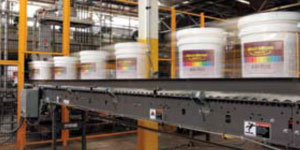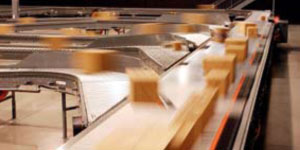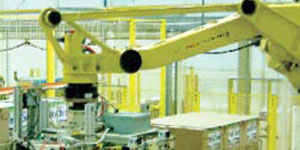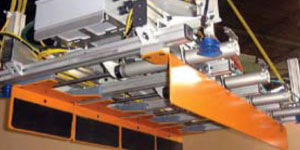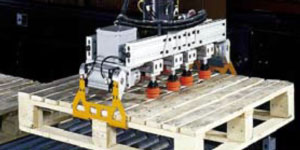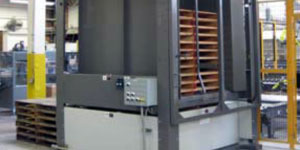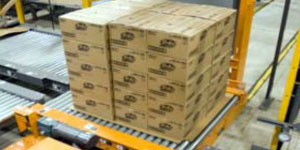 Infeed Conveyor & Load Forming
Widest product range of transportation and accumulation conveyors
High-speed sortation for feeding multiple pick points and robot cells
Row and layer formers based on 60 years of Alvey palletising experience
Auxiliary layer tables to improve throughput
Multiple case turning options
Simple "pusher" case sorter option
Intelligrated is the largest manufacturer of conveyor equipment in North America. Our manufacturing and system design capability combined with over a century of conveyor application experience enable us to design the best available conveyor system solution for any robotic application. Intelligrated has been perfecting row forming design for over 60 years on conventional Alvey palletisers and over 15 years for robotic applications. High-speed, gentle and accurate positioning of products is critical to maximizing robotic throughput and minimizing downtime.
Alvey Robotic Tooling
Fork, clamp, vacuum or combination tooling for virtually any product
In-house custom tool design for complex applications
Single case, complete row or entire layer handling tools available
Complex layer handling tool to handle thousands of SKUs
Third party tool integration if required
Segmented, multi-drop tools
Tooling is the heart of any robotic system. Alvey robotic tools are designed for the specifics of each application, fabricated in Intelligrated's manufacturing facility and tested with product supplied by the customer to ensure exceptional reliability.
Effective pallet and sheet handling can be designed into the robot tool with a corresponding increase in robot utilization as a lower cost, more compact alternative to ancillary pallet and sheet dispensers.
Additionally, as the application requires, Intelligrated can integrate other commercially available tools. So whether your product is a case, pail, bundle or bag, in case, row or layer quantities; Intelligrated has the right tool for you.
Pallet & Sheet Handling
Multi-function robot tooling can handle customer product plus sheet and pallets
Standalone Alvey pallet and sheet dispensers offer additional flexibility
Pallet gantry or shuttle systems can deliver pallets to multiple robot cells
Multiple pallet types feeding on-demand to robot cells
Complete safety interlocks for pallet and sheet replenishment
Effective pallet and sheet handling is a critical component of any robotic palletising cell. Intelligrated offers a complete line of multi-function robotic tooling that is capable of placing slip sheets, tier sheets and empty pallets.
For higher speed applications, stack-fed Alvey pallet dispensers and sheet dispensers are available.
Where multiple products are palletized on different pallets within a single or multiple robot cell, space constraints within the robot cell or reach limitations of the robots can hinder efficient cell design. Auxiliary pallet dispensers and high-speed sheet dispensers provide a flexible solution while maintaining maximum palletizing speed of the robot.
Allied Products & Services
Pallet load conveyors and integration of stretch wrapping systems
Fully integrated control systems
Comprehensive after-sales service and support
Customer Service Dashboard™ incident and project tracking database
OnTimeParts™ comprehensive on-line parts catalog
To maximize robot cell efficiency, full pallet loads must be removed from the robot work envelope quietly and reliably.
Intelligrated offers a complete line of pallet conveyor system components, including many types of chain driven live roller (CDLR) conveyor, multi-strand chain conveyors, transfer cars, turntables and right angle transfers. All of this equipment is designed, manufactured, controlled, installed and commissioned by Intelligrated - providing true single-source responsibility for the complete robotic system.
Intelligrated has service engineers strategically placed in regional offices throughout the U.S., Canada and Mexico. Trained service professionals are available to provide assistance with products or pattern changes, troubleshooting, training or replacement parts.
Please see our Robotic Palletisers brochure for more information.