Pallet Turning, Rotating & Transfer
Prime Engineering Pallet Handling systems can improve your pallet handling needs through proven design & integrated automation. Our range of Pallet turntables, rotators & transfers can be supplied individually or integrated with an innovative range of Prime Engineering pallet handing systems to minimize fork lift movements in your factory.
Pallet Turntables, rotators & transfers are often required within a production line to re orientate the pallet for operational, layout or product conformity requirements. Prime Engineering has a wide & varied range of pallet 'orientation' devices available to suit your specific production needs.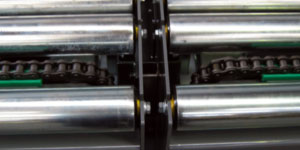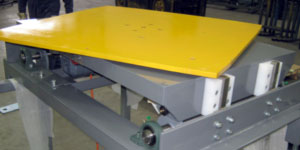 Common Features:
Standard or customized designs to suit any pallet type, size and load
Smooth quite operation
Adjustable feet
Modular construction to integrate with existing equipment or other Prime Engineering pallet handling systems
Variable speed drive (VSD) control if required
Turntables
Drag chain or roller type available
Slew ring drive rotation
Centre drive for revisable operation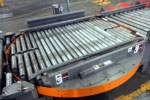 Roller turntable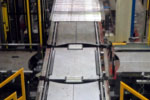 Drag chain turn table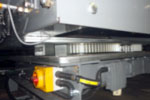 Slew ring rotation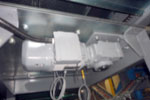 Robust Modular Construction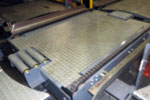 Sold & Serviced Locally
Rotators
Integrated design - Drag chain c/w rotating plate Direct drive rotation Electric Cam lift Robust construction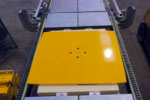 Rotator integrated into Drag chain conveyor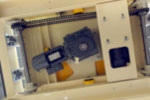 Direct Drive rotation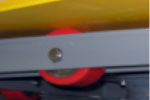 Urethane Rollers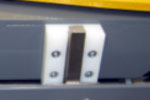 UHMWPE Guides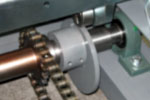 Cam Lift
Transfers
The Prime Engineering Pallet transfer range can offer the best suited transfer design for your pallet handling needs. Pallet transfer occurs by moving then lifting & transferring the pallet at 90˚. This can be achieved in a number of ways including:
Integrated pallet conveyor designs - Drag chain to Drag chain, Drag chain to roller etc.
Variety of lift options available - Electric Cam lift, pneumatic lift, Scissor lift, incline block lift etc.